Modern Recipes Traditional Recipes

KIMCHI SPRING ROLLS
An exciting, tasty and decorative twist on an American Classic.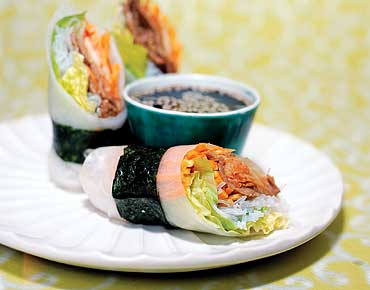 Ingredients
14 oz. King's Kimchi
4 oz. Dry rice stick noodles
Romaine lettuce cut into 4" pieces
1 lb. Thinly sliced beef (marinated/cooked)
Dried seaweed cut into 1/4" wide strips.
Preparation
Boil rice noodles as directed.
Soak each wrapper in a bowl of hot water about 10 seconds.
Lay ingredients on wrapper leaving 1 inch on right and left sides.
Fold sides. Roll up tightly, placing seam side down on plate.
Cut spring roll in half at an angle.
Wrap strip of seaweed around it when ready to serve.
You can always find creative and delicious kimchi recipes at http://www.kingsasian.com