Modern Recipes Traditional Recipes

KING'S KIMCHI FIRECRACKER DIP
A great holiday dip they'll ask for year after year.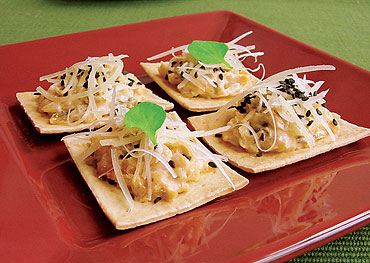 Main Ingredients
1 1/2 cup (1-16 oz. jar) King's Kimchi
1 cup shredded parmesan cheese
1 cup mayonnaise
Crackers or sourdough bread
Optional Toppings
Fresh basil or watercress leaves
Black sesame seeds
Preparation
1. Chop King's Kimchi into 1/4" pieces and drain.
2. Mix all wet ingredeints in large mixing bowl.
3. Add pepper to taste.
Preheat oven to broil.
Chop Kimchi into 1/4" pieces and drain.
Mix all ingredients in large mixing bowl.
Place mixture into small oven safe bowls or ramekins.
Place into preheated oven for 10-15 minutes until top becomes crispy and golden brown.
Cool on wire rack 5 minutes.
Serve on crackers or with sourdough bread.
Sprinkle additional parmesan cheese on top.
Optional
Place a small leaf of basil or watercress over cheese.
Sprinkle black sesame seeds.
You can always find creative and delicious kimchi recipes at http://www.kingsasian.com