Kimchi is finally getting the attention it deserves as a healthy choice. Health magazine named kimchi as one of the "World Healthiest Foods." A contestant on Bravo's Top Chef chose to cook a healthy, gourmet meal of braised pork and kimchi.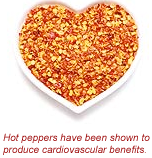 Healthy Choices, Healthy Ingredients
King's Kimchi is a smart choice for anyone looking to add something new to a nutritious diet. Our crisp, all-natural kimchi is perfect for a diet low in carbs and calories and ideal for vegetarians and vegans.
Garlic – Good for your heart
The garlic in kimchi helps reduce the risk of heart attacks and strokes. Studies show garlic clears cholesterol off artery walls, keeps hair healthy and fends off wrinkles. Garlic also protects the body from allergies, reduces stress and regulates blood sugar levels in diabetics.
Vitamins & Minerals – Immunity builders
Kimchi packs in the vitamins... Vitamins A, B, C and Beta Carotene, to be exact. Also high in calcium, iron and fiber, kimchi serves up more lactic acid than yogurt! It's also naturally low in fat, cholesterol and calories.
Red Pepper – Spice for life
The red pepper in King's Kimchi adds a nice kick of flavor and Vitamin C. (The Vitamin C in hot peppers is the highest of any food, including oranges.) These high levels of Vitamin C help convert cholesterol to a digestible form and relieve arthritis. Foods with red pepper have long been thought to increase the body's metabolism, to help burn calories and fat at a higher rate.
Cabbage – Nutrients galore
Fresh Napa cabbage is the main, multi-tasking ingredient in kimchi. Once cabbage ferments, it gets busy providing nutrients your body needs to easily digest food. The fermented cabbage also teams up with beneficial bacteria in the digestive system, to absorb vitamins and nutrients.
And while the science is still out on kimchi curing avian flu, we love a warm bowl of kimchi chicken soup just in case.