In 1966 our parents Inja Kim and Jung Taek Wang, both Korean immigrants, wanted to share their beloved tradition of kimchi with the city of San Francisco. They worked tirelessly, even selling their delicious kimchi from the back of their car. They truly believed kimchi brought something special to any meal.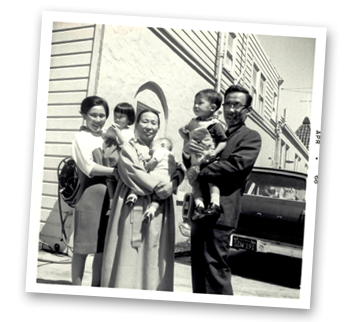 Soon, loyal customers were asking for more and more of their original-recipe, healthy kimchi. Our parents could barely prepare the kimchi fast enough.
So, in 1970, our parents answered the demand by starting what would become King's Asian Gourmet Kimchi. They even took the extra care of importing cabbage seeds from Korea for a crisper, sweeter taste.
A family tradition continues
Fast forward 44 years and King's Kimchi is still family-owned. We remain dedicated to a hand-made process that mimics small batch production in consistent quality and taste.
We still use glass jars to create a natural, bubbly and satisfying flavor. And every year King's Kimchi hand batches over 1 million pounds of cabbage — that's over 40 million pounds of cabbage so far!
All so kimchi fans in the U.S., American Samoa, Japan, Tahiti, Guam, Polynesia and Saipan can pop open a jar of kimchi and enjoy any time.
Read why
kimchi fans
keep clamoring for more!