We've trekked all over the web to bring you the best links on your beloved kimchi. And what wonderful gems we found! Join us for some kimchi fun.
Kimchi is popping up everywhere these days... TV, film, magazine and newspaper articles and even cartoon characters.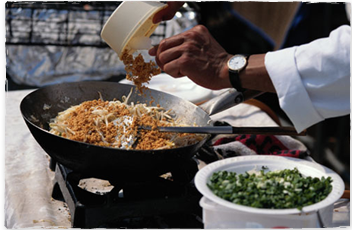 Kimchi on TV
Food Network's popular show Unwrapped! goes behind-the-scenes of well-loved food brands. Food Network calls kimchi "a hot Korean side dish that's a hot hit in America."
This time around they chose King's Kimchi to include in the episode "Hot & Spicy." We, of course, jumped at the chance to give you an insider's glimpse of the extra care we take with our handmade kimchi.
View the Food Network episode at the following times:
July 17, 10PM/9c | July 18th, 1AM/12c | July 21 11:30PM/1030c
It will be available online soon as well.
Kimchi on the Big Screen
Kimchi and cinema prove to be the perfect mix. Kimchi serves as the main plot in the South Korean film "Le Grand Chef 2 – Kimchi War." The film follows two top chefs as they compete to make the best kimchi dish in a national contest.
This film is queued up in our "must-see films" of the year.
Check out the kimchi film trailer here.
Kimchi News in The Wall Street Journal
Kimchi finally moves to the top of the ingredients list. The Wall Street Journal noted the trend for kimchi as the secret ingredient in new fusion foods.
According to the article, "Last fall, a South Korean government minister announced an effort to make Korean one of the world's most-famous cuisines." We hope he succeeds!
Read the full article for all the businesses getting in on this hot kimchi trend.
Kimchi Warrior on the Rise
What's the true test a food group is here to stay? Getting a cartoon dedicated to your favorite food!
Kimchi Warrior is one of the best kimchi finds yet, and we just had to share.
The site proclaims Kimchi Warrior as, "The protector of mankind from deadly diseases that plague the Earth. Our hero can obtain supernatural strength by consuming Kimchi..." Now that's a cool super power.
Check out an episode of Kimchi Warrior.
Kimchi Museum… Sums It All Up
If you're a diehard lover of all things kimchi, be sure to check out the Kimchi Museum in Seoul, Korea. The museum includes displays on how to make kimchi, the diverse types of kimchi as well as an onsite tasting room.
Learn why kimchi is loved nationwide and beyond.