Traditional Recipes Modern Recipes

BIBIM BAP (Kimchi Fried Rice)
A great holiday dip they'll ask for year after year.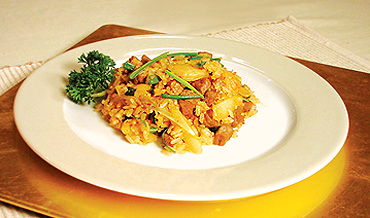 Ingredients
12 oz. King's Kimchi
1 lb. Diced or ground beef
1 tbsp Sesame oil
2 tbsp Soy sauce
3 tbsp Diced green onion
1/2 ounce Minced garlic
1/2 tsp Black pepper
4 cups Cooked rice
Preparation
Chop kimchi into small pieces.
Mix meat and seasonings together.
Cook meat until brown.
Add rice and kimchi to meat in pan.
Stir fry.
You can always find creative and delicious kimchi recipes at http://www.kingsasian.com