Traditional Recipes Modern Recipes

KOREAN STYLE DUMPLING (Man-Doo)
A popular hors d'euvres thats great for parties and get togethers.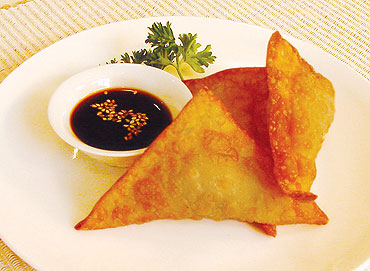 Ingredients
1/2 cup (4 oz.) King's Kimchi
1 lb. Ground beef/pork
1/2 cup Firm tofu (mashed)
1/2 oz. Minced garlic
1 tbsp Finely chopped Green onion
1 tsp Soy sauce
30-36 Square wonton wraps
Dipping Sauce
1/3 cup Soy sauce
2 tbsp Vinegar (rice vineger preferably)
1 tsp toasted sesame seeds.
2 tsp Grated ginger (if desired)
Red Pepper Flakes (for added spiciness)
Dumpling Preparation
Mix ground beef, green onion, soy sauce, garlic, salt and pepper.
Add finely chopped kimchi.
Squeeze tofu dry and add to mixture.
Fill wonton skins with one teaspoon of mixture.
Seal edges with water or egg white.
Deep fry until fully cooked.
Remove from oil and let excess oil drain on plate with paper towel.
Dipping Sauce Preparation
Combine all sauce ingredients in small bowl and mix.
You can always find creative and delicious kimchi recipes at http://www.kingsasian.com